The 27th Ukiyo-e Auction
DATE : October 1st1st(Sun) at Ginza Yokyo Hall,6F
Preview : September 29th(Fri)-30th(Sat)11:00-18:30 at Ginza Yokyo Hall,6F
Please feel free to ask any informatin about the auction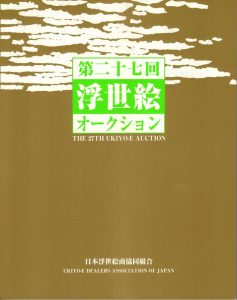 1,300yen(including tax & shiping)
The 27th ukiyoe auction will be held hosted by Ukiyo-e Dealers' Assocition of Japan. 696 items will be exhibited at the auction this year. Anyone can participate in this auction.
Registration is necessary beforehand. Please contact us.
How to get the catalogue
・Please apply for the catalogue hope by E-mail or fax. (You can see the exhibition contents by the Web catalogue)
・We inform you the account number. Please chose one amoung the following;
- the postal transfer
- Japan Post Bank
- The Bank of Tokyo-Mitsubishi UFJ
・Please bear the transfer fee.
★The catalogue will be sent by Kuroneko DM service★
(it takes 2-3 days after shipment)